Michael Jackson - 61st Birthday message to MJ fans all over the world.
Happy Birthday Anniversary Michael Jackson! 10 years we have been working together. Still standing by your side. Michael Jackson specially requested this message of Unity and Creativity go out to all the MJ fans in the world. It is time to take action and incorporate your spiritual gifts into your creative gifts to this world. You are fully empowered to be your own unique self. Be fierce and a spiritual warrior. Please share this message far and wide. Your gifts and talents a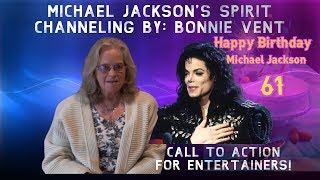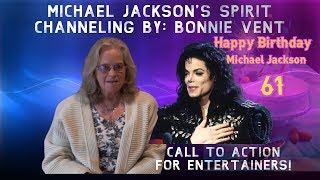 [Collaborations with Spirit interview series] Activate Your Soul's Blueprint (check this out!)
Coming August 19, 2019 Collaborations with Spirit 21+ Channeled Messages to Activate Your Energy System and Create From Divine Flow. Make sure you sign up for this inspiring video interview series. It is free to those who use this link: http://collaborationswithspirit.com/Bonnie-Vent. You will receive a notification/reminder to watch this series on your favorite device. I am providing a special discount code for my spiritual art work to those who watch, so stay tuned. (Pun
[Collaborations with Spirit interview series] Receive Divine Transmissions For Creation Energy Here!
Coming August 19, 2019 Collaborations with Spirit 21+ Channeled Messages to Activate Your Energy System and Create From Divine Flow. I am so thrilled to announce my contribution to this inspiring video interview series. It is free to those who use this link to sign up: http://collaborationswithspirit.com/Bonnie-Vent. You will receive a notification/reminder to watch this series on your favorite device. As a person with spiritual discernment, you are probably aware that you